This Fall I spoke to my son's English class and explained to them editing is 75% of writing. I may have underestimated this percentage. I'm on my sixth significant edit of my 3-POV novel. POV = point-of-view. That's right. I'm writing a mystery from three different points of view. In first person. It's … challenging. Which is fine. At least that's what I'm telling myself every morning before I open the document.

As I said on the Game of Books Podcast in January, the process of drafting is building up a mountain, while the process of editing is going through that mountain and collecting all the gems you put in there while creating it. A lot of budding authors have connected to that image, which feels pretty good.

I'm going to add to it, though. You then must line those gems up in a pretty row because while it's great to have a cluster of goodies, they must be in an order that makes sense. And in the last two passes of this novel, I've been working on the order of my gems.

I think with some solid coffee shop time I can get this done a couple of weeks. I mean, any excuse to get a Zesty Cardamon Latte from my favorite coffee shop, right?
The sooner I get my lattes the sooner you all will have a new Mindy Carlson book to read!

In just under two weeks, I'll be attending the Left Coast Crime Convention in Tucson. I've been to Arizona twice a long time ago, but I loved it and am so excited to go back. I'll be on a panel on Thursday evening about books that fit a little crooked in their sub-genre called "Is Your Book Edgy/Cozy, Noir/Traditional, Or?"

There are some mystery novels that straddle several sub-genres, and HER DYING DAY is one of those. It's kind of a cozy mystery wrapped in a leather jacket. I will be going into more depth on that during my panel.

I love being on panels because you meet such amazing authors and hear their perspectives on the craft of writing. I was on a panel during Bouchercon with Brianna Labuskes and Margot Douaihy. Both are amazing authors who have just published new novels. If you haven't heard of them you've just been introduced to your two new favorite authors. You can thank me later.

Brianna's novel, The Librarian of Burned Books, takes place at three different period of WWII and reminds us that burning books and banning free expression is one tactic despots and dictators use to control the hearts and minds of the people. Brianna did a masterful job weaving together the narratives of three women told in three different time periods. There's mystery, suspense, love, and full of truths we, as a society, shouldn't forget. I give it 5-stars.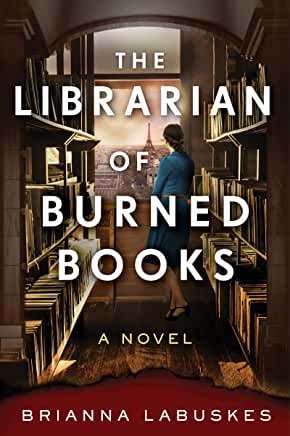 Gillian Flynn, author of Gone Girl, has selected Scorched Grace to be the first novel released from her publishing house, and it is a banger. Margot Douaihy's hero is a bad-ass, tattooed, cigarette-smoking, queer nun who lives in a convent in New Orleans. The strong voice of the novel sucked me in and propelled me through to the very last word. Absolutely 5-stars.

Happy Reading!
Mindy

You can order my book at Swamp Fox Books, an independent, family-owned book store! Or Amazon, Barnes & Noble, or any of your local bookstores, but if you order from Swamp Fox you get a signed bookplate and a cool bookmark.